Unilift 538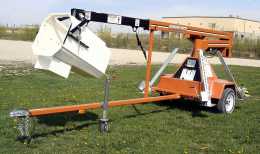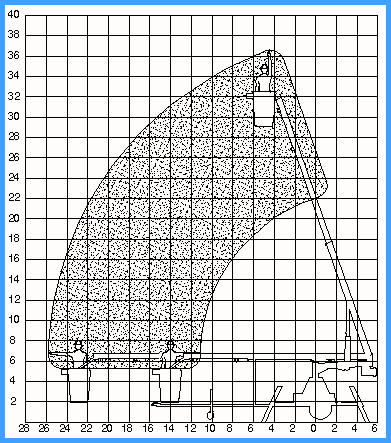 Specifications
Max Working Height:
Personnel Lift: 36' (11.00m)
Universal Crane: 31' (9.45m)

Platform Height - Max: 30' (9.14m)
Max Reach from Center of Rotation:
Personnel Lift: 24' (7.32m)
Universal Crane: 21' (6.40m)

Outrigger Spread: 11'-1" (3.38m)
Stowed Travel Height: 6'-6" (1.98m)
Stowed Travel Width: 6'-4" (1.93m)
Stowed Travel Length: 22' (6.71m)
Rated Load Capacity: 300 lbs. (136 kg)
Crane Capacity: 500 lbs. (227kg)
Rotation: 360° Coverage
Shipping Weight: 2950 lbs. (1340 kg)
Normal Operating Pressure: 700 psi (4.83 MPa)
Tongue Weight: 140 lbs. (64 kg)
Standard Features

Crank or Jack outriggers
Trailer frame with 3500 lbs. (1589 kg) single axle
P205-75R14 Radial Tires
2" (50.8 mm) ball coupler
6-volt, 250 amp/hr, deep cycle batteries
Built-in 30-amp charger with automatic shut-off
Fiberglass bucket (gravity leveled, hydraulically dampened) with body harness and lanyard
Effective 360° Coverage
Emergency controls at bucket and base
Removable bucket for crane conversion
Options

Power Jack Setup
25 ft. (7.62 m) truck power cord assembly
Trailer power cord assembly
Crane load lifting bail and holder
Surge brakes
Pintle hitch
FLeveling safety switch
Spare Tire Carrier
The UniLift Model 538 features a telescopic boom with a 36-foot working height. Being battery powered means the UniLift can be used both outdoors and indoors without the objectionable noise and fumes associated with gasoline engines. Equipped standard with a built-in, heavy-duty, "smart" charger, our lifts can even be plugged into any 110VAC power source - while operating - to keep the batteries "topped off". UniLifts also feature 300 lbs. bucket capacity, 360-degree effective coverage, and standard crank or jack style outriggers. The new power jack outrigger setup provides fast, easy, and reliable setup, with maximum stability. In addition, UniLifts can be quickly converted from a personnel lift to a boom crane, which is perfect for setting trusses! With unit weights less than 3,000 lbs., our lifts tow comfortably behind a pick-up truck, and can be easily maneuvered in and out of tight work spaces - even on turf!

Long the benchmark of the trailer-mounted lift market, UniLifts are by far the easiest units to setup & operate, and the simplest units to service & maintain. Backed by 20+ years in the rental-equipment business, UniLifts continue to have an industry-wide reputation of quality and reliability.
Picture and Specifications are informational only, actual rental equipment may vary slightly.